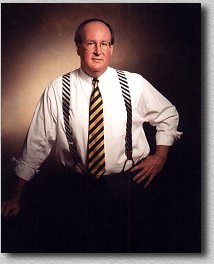 A lawyer's ability and performance is derived from his or her complete background, commitment and life experience. Mr. McGuinness grew up in a small town, Elizabethtown, North Carolina. He labored on farms, in factories, and on construction sites - he knows what hard work is all about. Mr. McGuinness was taught traditional values, which he employs in his practice.
Mr. McGuinness attended college on an academic scholarship from the North Carolina Veterans Commission, which led to his graduation cum laude with honors in economics. As a research associate at the University of North Carolina, and as a mill and construction worker, Mr. McGuinness worked his way through college.
Mr. McGuinness has received several awards for academic achievements, for excellence in teaching, and in the representation of clients. He received the Wall Street Journal Award in economics from the Dow Jones Company and the University of North Carolina. He subsequently received an Alumnus Award from the University of North Carolina.
Mr. McGuinness worked his way through law school by serving in the Office of General Counsel of the Federal Deposit Insurance Corporation, the United States Department of Treasury, and a Washington, D.C. litigation firm. Mr. McGuinness was a Dean's List law student and was a published author in a university law journal while a law student. Following graduation from law school, he completed post-graduate legal study at the National Law Center of George Washington University in Washington, D.C. in 1984 and 1985.
Mr. McGuinness began his legal career with the United States Department of the Interior in 1984. He subsequently returned to North Carolina and served as a criminal prosecutor. Mr. McGuinness represented the State of North Carolina in a wide variety of cases, including complex felony prosecutions. He prosecuted many jury trials, which came to be his favorite forum.
Mr. McGuinness initially entered the private practice of law with a distinguished firm in Fayetteville, North Carolina. He represented a diverse client base which included matters from routine to complex - automobile accidents to constitutional litigation before federal trial and appellate courts.
In 1989, Mr. McGuinness relocated to Boston, Massachusetts, home of the original McGuinness immigrants from Ireland. He joined a national litigation firm with a specialty in products liability and major personal injury litigation. There, Mr. McGuinness litigated and managed a docket of complex personal injury cases in several states.
Mr. McGuinness learned trial and appellate advocacy through working with prestigious counsel in Washington, Boston, and North Carolina. In 1991, Mr. McGuinness began his own firm and has since successfully handled hundreds of client matters.
Mr. McGuinness often undertakes complex cases involving difficult issues of law. He also handles simple and routine cases - automobile accidents, contract disputes, and routine employment and business related matters. Mr. McGuinness serves as a consultant for other lawyers who need special expertise in the fields of employment law, law enforcement liability, and civil rights litigation.
---
SUMMARY OF EXPERIENCE
Private Practice, Elizabethtown, N.C., Boston, Massachusetts and Washington, D.C. 1991 - present. Litigation practice with concentration in employment and labor, constitutional and civil rights, law enforcement, appellate, tort, administrative and related litigation. Serve as legal consultant to employee associations and counsel.
Private Practice, Boston, Massachusetts, 1989 - 1991. Litigation practice with emphasis upon products liability, professional liability, major personal injury, and wrongful death litigation.
Private Practice, Fayetteville, N.C., 1987-89. Plaintiff and defense litigation with emphasis in personal injury, employment and labor, business, administrative and civil rights litigation. Substantial federal trial and appellate practice.
District Attorney's Office, Jacksonville, N.C., 1985-87. Prosecuted and managed felony cases including homicides and virtually all types of major crimes.
U.S. Department of the Interior, Washington, D.C., 1984-85. Practiced environmental and natural resource law.
Clerkships: Completed clerkships during law school with the Federal Deposit Insurance Corporation, U.S. Department of the Treasury, and a Washington, D.C. litigation firm.
---
NON-LEGAL EXPERIENCE
Joint Municipal Housing Cooperative, Elizabethtown, N.C., 1979-80. Served as executive director of county public housing agency; managed agency and housing development projects.
Bladen Community College, Dublin, N.C., 1980. Instructor of economics and business administration; received teaching award.
U.S. Army Corps of Engineers, Washington, D.C., 1979. Summer internship, economic analysis.
University of North Carolina, Wilmington, N.C., 1977-79, part-time. Performed research and writing assistance for faculty public affairs projects; managed research laboratory.
---
PROFESSIONAL STATUS AND LICENSING
Member: United States Supreme Court Bar, the Massachusetts Bar, the District of Columbia Bar, the North Carolina Bar, all bars of United States Courts of Appeal for all thirteen Circuit Courts of Appeal, United States Court of Military Appeals, United States Claims Court, United States Tax Court, and numerous federal district courts and specialized appellate bars.
Mr. McGuinness is a member of several bar associations including the North Carolina, Massachusetts and American Bar Associations, the Association of Trial Lawyers of America, the North Carolina Academy of Trial Lawyers, the Maine State Bar Association, the New York State Bar Association, and the National Law Enforcement Officers' Rights Center of the National Association of Police Organizations, Inc.
---
EDUCATION
Post Graduate Legal Study, George Washington University, National Law Center, 1984-85.
Juris Doctor, North Carolina Central University, 1983, Dean's List and Book Award Recipient.
Bachelor of Arts, Cum Laude, Economics, University of North Carolina, 1979.
Completed extended Appellate Litigation Program at U.S. Justice Department Advocacy Institute, Washington, D.C., 1985.
Completed dozens of continuing legal education programs and courses.
---
ACTIVITIES / ACHIEVEMENTS
Board Certified Civil Trial Advocate, National Board of Trial Advocacy.
Appointed as Adjunct Instructor of Civil Rights Law, Williams College, Williamstown, Massachusetts, for winter terms, 2002 and 2004.
Legal Consultant, Williams College, 2002. Legal Research Web Page, Sawyer Library, Williams College.
Member, Board of Directors, Foundation for Study of Law Enforcement Integrity, Atlanta, Georgia.
Editorial Advisory Board, James Publishing Company, 1999-2000.
Contributing Author, Police Magazine.
1998 Advocacy Award by the National Rifle Association.
Associate Editor, The National Trial Lawyer Magazine, 1990 to 1994.
Founding Member, Publications Committee and Board of Editors, Journal of Massachusetts Academy of Trial Attorneys, Member of Board of Editors, 1991 to 1994.
North Carolina College of Advocacy.
Board of Editors, Journal of North Carolina Academy of Trial Lawyers, 1987 to 1993.
1980 University of North Carolina Alumni Award
1980 Bladen Community College Distinguished Teaching Award.
1979 University of North Carolina Wall Street Journal Award.

About the Firm | Personal History | Areas of Practice | Teaching & Publications | Law Enforcement Advocacy
Copyright 2000 J. Michael McGuinness. All Rights Reserved.